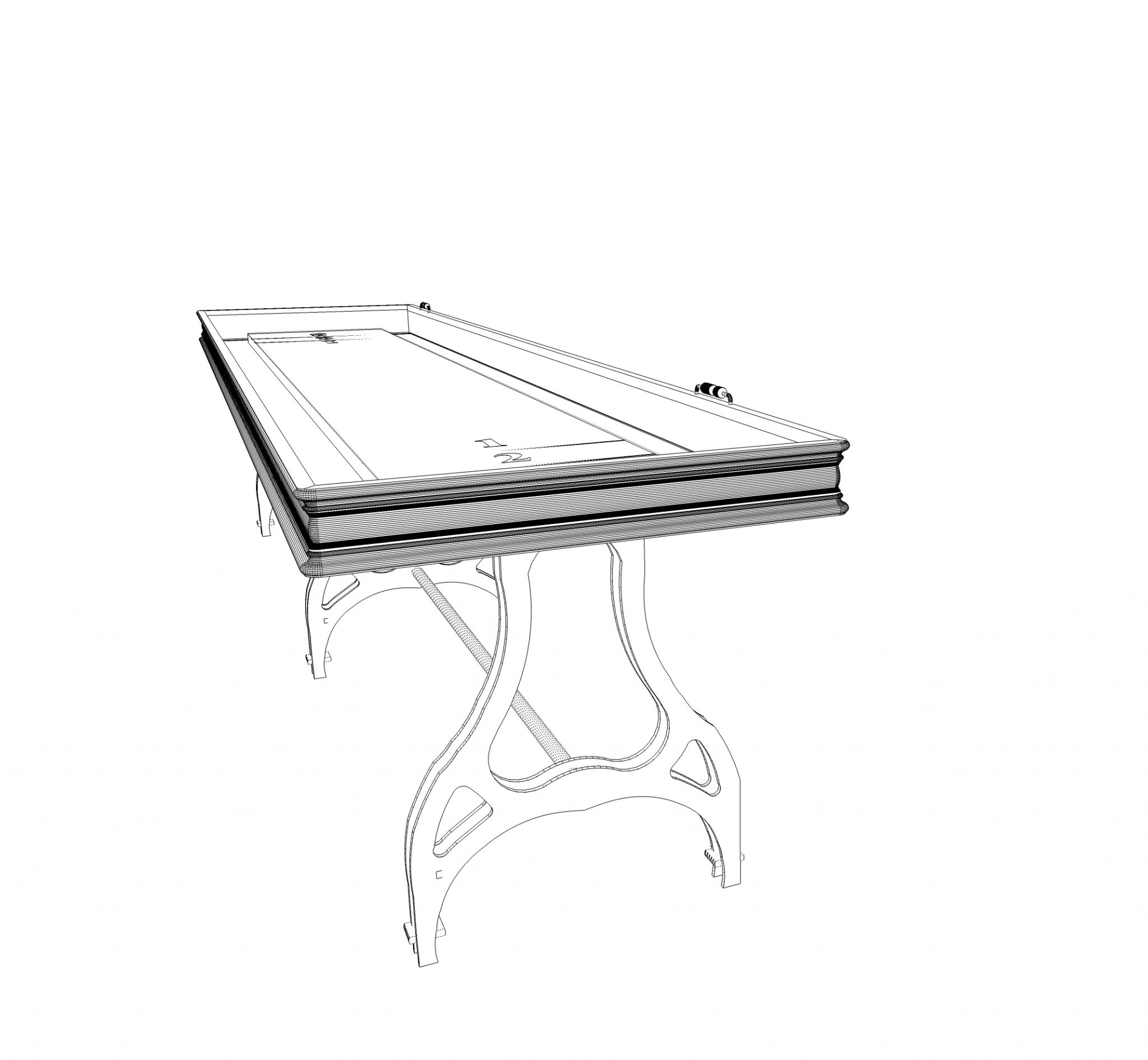 BACKGROUND
The shuffleboard game is a classic and very popular bar sport in America, but it isn't very well known here in Germany. The celebrated gin manufacturer from Schwarzwald Monkey47 decided to change that and bring the shuffleboard tradition over here. We developed and built a beautiful mobile version of it for the marque's Germany wide "All Schwarzwald Shuffleboard Open Tour", where invited guests were able to get to enjoy the delicious gin and get to know the game. The game block was traditionally made from maple-wood and countless polishing steps were taken to achieve a near mirror-like finish. The oak-wood frame was smoked in order to get it in just the perfect shade of brown and inside of the frame as well as the floor were lined with a padded fabric printed with a funky Monkey47 motive. The lines and drawings on the game block were done by hand by a famous local pin-strip and tattoo artist. Even the score beads were special as they were literally made from the original Monkey47 bottle corks. It was definitely one of those projects where handcrafted met tradition met fun and encapsulated the brand´s spirit.
Das Shuffleboard Spiel ist in Amerika ein klassischer und weitverbreiteter Bar Sport, bei uns allerdings bisher noch recht unbekannt.
Für die beliebte Schwarzwald Gin Marke Monkey 47 haben wir eine detailverliebte mobile Version des Spieltisches entwickelt, der auf der diesjährigen "All Schwarzwald Shuffleboard open Tour " durch Deutschland zum Einsatz kam. Der Spielblock wurde traditionell aus Ahornholzleisten verleimt und in unzähligen Durchgängen bis zur perfekten Gleitfähigkeit geschliffen und poliert. Der Eichenholz Profilrahmen wurde für eine optimale Farbgebung geräuchert und von innen mit Monkey Motivstoff ausgepolstert. Die handgemalte Spielbrettverzierung und die Spielstandzähler aus original Monkey Flaschenkorken bildeten den Feinschliff der Markenintegration.